Thank you for considering NIS as the school of choice for your child. In today's competitive and fast-paced world, it is important to give your child the advantage of the best possible education. Given our passionate commitment to the cause, we assure you of a complete, holistic educational experience for your child.
ADMISSION PROCESS AND REQUIREMENTS
We have made our admission process simple and convenient for the parents. Once you pick up or download an application form, all you have to do is fill it out and send it to us along with the following documents:
Three passport size photographs
Proof of Date of Birth
Proof of Nationality of child and Parent
Registration Fee
Previous School Report
School leaving certificate from previous school
Migration Certificate
 Health Registration Form (all immunizations must be current and certified by a physician)
Decisions regarding admission are made by the 'Admissions Committee'. They consider the following:
Age of the student
Scores on the written tests (Grade 4 onwards)
The student's academic record
All candidates will be required to take a test. Both parents may accompany the child when called for test / interaction. The format of the test is as follows:
Early Years (Nursery, Junior KG & Senior KG) – Informal Interaction
Grade 1-3 – Basic skills and personal interaction
Grade 4-5 – Written test in English & Maths
Grades 4 & 5 will also be asked to write a composition / reflection of approximately 200 words. The child is expected to write in his/ her own handwriting.
The written test will consist of multiple choice questions and there is no fixed syllabus. However it will be based on the expected grade level achievement irrespective of the curriculum studied earlier.The tests will be followed by a personal interaction  with the Principal.
On being granted admission, an Agreement / Indemnity Form is required to be completed.
A physically challenged child and children with Special Education Needs will be admitted on a case by case basis.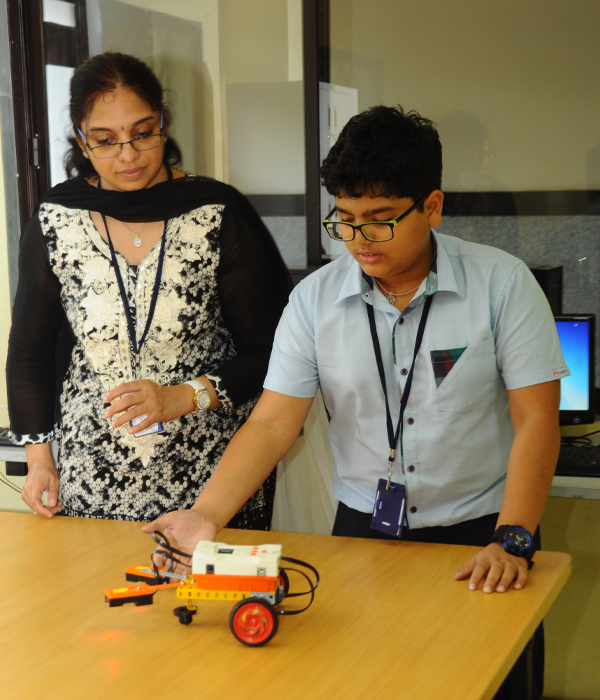 Regardless of the month of admission, the child needs to be of the entry age as of March, 31st
| Grade | Entry Age |
| --- | --- |
| Preschool | 2 Years |
| Nursery | 3 Years |
| Jr. KG | 4 Years |
| Sr. KG | 5 Years |
| Grade 1 | 6 Years |
| Grade 2 | 7 Years |
| Grade 3 | 8 Years |
| Grade 4 | 9 Years |
| Grade 5 | 10 Years |
| Grade 6 | 11 Years |
| Grade 7 | 12 Years |
| Grade 8 | 13 Years |
| Grade 9 | 14 Years |
| Grade 10 | 15 Years |